UNITED KINGDOM
Ishiguro, Kazuo. An Artist of the Floating World. New York : Putnam's, c1986. Langsam Stacks PR6059.S5 A89 1986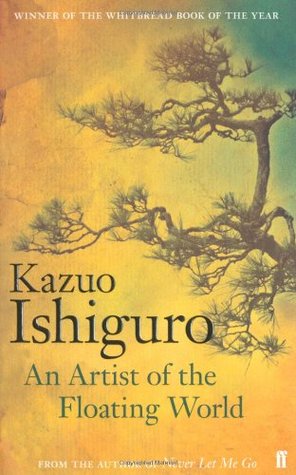 This is the second book by Kazuo Ishiguro. It was recognized with Whitbread Book of the Year Award (1986).
In his review in The Japan Times Iain Maloney describes the book as "a sensitive examination of the turmoil in postwar Japan, a time when certainties were overturned, gender politics shifted, the hierarchy of the generations seemed to topple and even the geography of cities changed."
In October 2017 Nobel prize in literature has been awarded to Kazuo Ishiguro "who, in novels of great emotional force, has uncovered the abyss beneath our illusory sense of connection with the world".
Ishiguro was born in 1954 in Nagasaki, Japan. His family moved to England in 1960. He was raised bilingual and bi-cultural. He received a B.A. with honors in philosophy and literature from the University of Kent and a M.A. in creative writing from the University of East Anglia. He published his first novel, A Pale View of Hills, in 1982. It was recognized with Winifred Holtby Award from the Royal Society of Literature in 1983. In 1989 the author won the prestigious Booker Prize for his bestseller The Remains of the Day. Ishiguro was named to the Order of the British Empire for his literary work in 1995.
Two of Ishiguro's novels were adapted into feature films: The Remains of the Day (1993, starring Anthony Hopkins and Emma Thompson) and Never Let Me Go (2010, directed by Alex Garland).
His most recent novel, The Buried Giant (2015), is set in the times of King Arthur and explores themes from British folklore.
UC Libraries' collections feature a number of books by Kazuo Ishiguro, including records of conversations with the author. Library databases, such as Literary Resource Center and Literature Resources Center, provide a wealth of information about Kazuo Ishiguro and his works.
---
We would like to feature different books throughout the year. Please suggest a book to be featured in the future. It would be great if with your suggestion you included a brief personal essay on why the book/author is special to you.or important for understanding a country or culture.